Introduction
I'm sure that many 'true' optical drive enthusiasts (basically, that's me and a dozen or so people over at MyCE!) will agree with me that there's just never enough room inside a PC case to put all your drives!
Sure, my PC tower (Lian Li PC-V2010) has space for 7 x 5.25" drives but that's simply not enough to give me quick access to everything I need!
Having decided enough is enough, I had a quick Google to see what (if anything) was available in the way of external enclosures for 5.25" devices. That's when I came across the Addonics 'Storage Tower' range.
It was the Addonics 'Optical Tower V / IX' that initially caught my attention, but that comes pre-populated with drives (LG GH22NS50) and I needed something I could fill with what I've already got. Fortunately, there was a break down of the parts that make up the 'Optical Tower V / IX' and I was able to work out exactly what I needed.
My amazing powers of deduction now had me searching for a 'Storage Tower V / IX' (ST5 / ST9) and a '5x1 eSATA Hardware Port Multiplier-XA Enclosure Version' (AD5HPMRXA-E).
Again, as luck would have it, they actually offer the ST5 / ST9 with a AD5HPMRXA-E preinstalled under the model number 'ST55HPMXA' / 'ST95HPMXA' - result!
If you're wondering what the difference is between the ST5 and the ST9, it's basically that the ST5 has 5 drive bays and the ST9 has 9.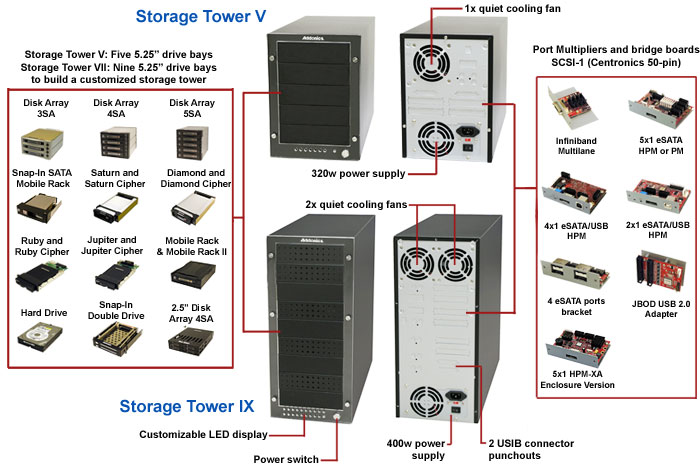 The AD5HPMRXA-E is a storage controller card based around the JMicron JMB393 chipset. The clever 'Port Multiplier' technology means you can simultaneously talk to any and all of the 5 drives it supports via a single eSATA cable connection from the PC.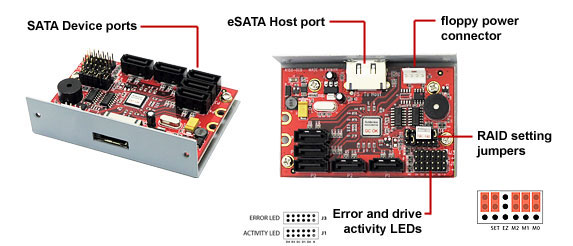 Technically, the ST9 would require 2 of the AD5HPMRXA-E storage controllers to operate all 9 drives (as one card can only handle 5 drives at a time). For some reason though, the 'ST95HPMXA' still only comes with 1, meaning you have to buy a second one separately - and they're not exactly cheap!
I umm'd and ahh'd for a few days before deciding to buy the ST5 rather than the ST9. I can hear you asking 'Why didn't you buy the ST9?', so let me tell you... I'm very unlikely to need all 9 drives in one go, the unit itself is quite a bit taller and more 'in your face', and the most important one... I don't have 9 spare drive letters in Windows! Sigh, I guess it didn't help that the ST9 was basically twice the price too!
If I can decide on a few more drives to take out of storage (or I get some other new decent ones), I may well end up getting a 2nd ST5 at a later date and put them in it - now I know it's a decent piece of equipment and works properly for what I want!
Aimtec (the UK supplier of Addonics equipment) didn't have the ST5 or ST9 listed on their website so I ended up emailing them for a price. I promptly received a very helpful, positive response from 'Gordon' and ordered the ST5 (Model: ST55HPMXA) over the phone with 'Lisa' a few days later. I can't fault the service I received from them.
I had to wait a few days for their weekly shipment to arrive from the US (this wasn't a stock item) and they then sent the ST5 to me via 24hr courier... and that brings us to today.
The Review
The ST5 was packed very well - it was wrapped in plastic and sandwiched between two foam padded layers of cardboard inside a box, inside a box (yes, that's a box in a box!).
The box (in the box) contained the ST5 (phew!) and a plastic resealable bag. Inside the plastic resealable bag (you didn't think it was going to be empty did you?!) there were some instructions on how to configure the jumpers on the storage controller card (the defaults were fine for how I wanted it), a CD with drivers and software on it (not needed), a bag of screws (complete with 3 cable ties) and a 13Amp 3pin power cable (just your standard kettle lead).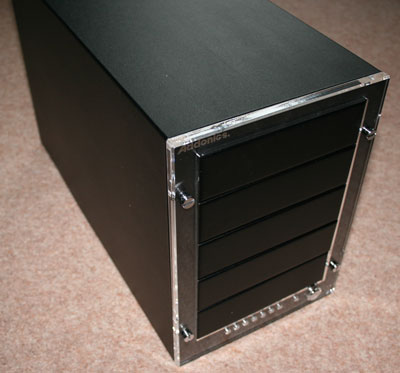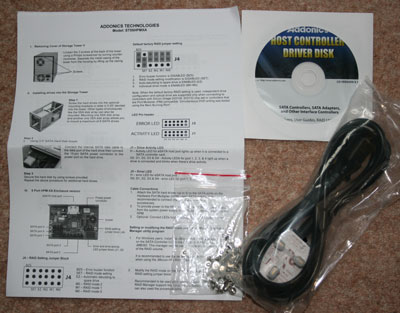 The unit itself is black covered/painted steel (rather than aluminium, which I guess I've gotten used to) and has a clear plastic front on it.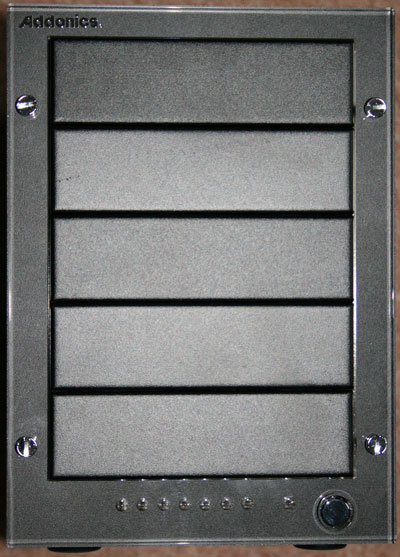 Looking at the unit from the front, you'll notice the 'Addonics' name in the top left corner (it's shiny silver and doesn't photograph very well). It's under the plastic so there's zero chance of it getting scratched off. Down the bottom there are 7 orange drive activity LEDs, a green power LED and the power button itself.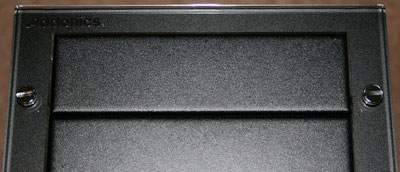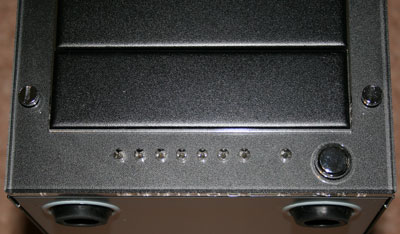 Turning to the back of the unit we see the top 80mm exhaust fan, lots of covered 'punch out' holes for various types of connections/boards, an eSATA port (on the 'AD5HPMRXA-E' card) and the rear of the PSU, also with an 80mm exhaust fan.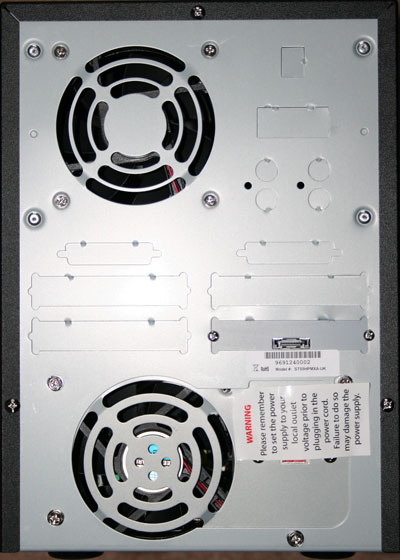 The black outer casing is easily removed by unscrewing 3 screws from the rear of the unit (top middle, bottom left, bottom right). Doing this allows us to get a look at the internals.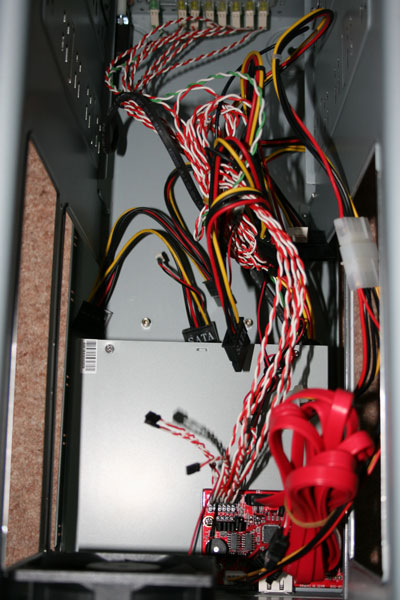 You'd be forgiven for thinking 'Wow, that's a lot of wires!', I know I did. It's an impression not helped by Addonics' decision to use individual cables for the 8 LEDs at the front of the enclosure rather than a nice neat ribbon. Still, it's nothing that can't be fixed in 5 minutes with the help of some cable ties.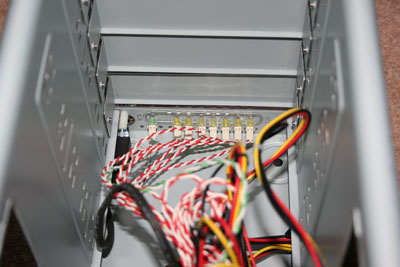 I don't have any cuts on my arms, hands or fingers, so I can safely say that the enclosure's steel frame has no sharp edges and everything is rounded off nicely. It looks to be a sturdy structure, but I wouldn't jack my car up on it, just in case!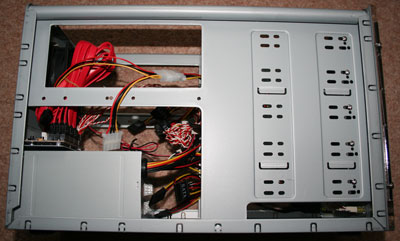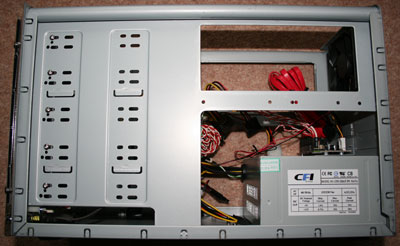 The 'CFI Group' branded 320W PSU (Model: 'CFI-320AT-PS /SATA') has a total of 9 SATA power connections coming from it (3 leads, 3 connections on each) and a single 4 pin molex on its own lead. The 4 pin molex is already (semi) in use, powering the '5x1 eSATA Hardware Port Multiplier-XA Enclosure Version (AD5HPMRXA-E)' board by means of an FDD/HDD power splitter - only the FDD part is used so you still have a 4 pin molex spare should you really need it. I should note that unlike the picture on the Addonics website, my PSU does not have an on/off switch on the back of it.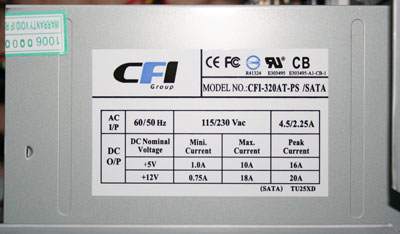 The final SATA power connectors on 2 of the 3 SATA leads have a tiny trailing power socket on them which is used to power the top 80mm exhaust fan (1 fan per socket - so there's 1 spare).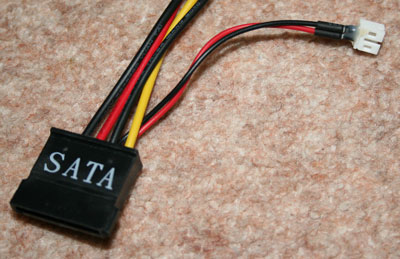 I can tell the top 80mm exhaust fan is supposed to be quiet (I'm not a 'Delta' fan kinda guy, so that's a good thing!), but if I listen closely I can hear it making an annoying electrical buzzing sound. I removed it quickly so I could see what it was and take a picture for this review. The fan is made by a company called Muhua Industrial Co., Ltd. The model number is MH8025L12S-A and it's rated at DC 12V, 0.20A.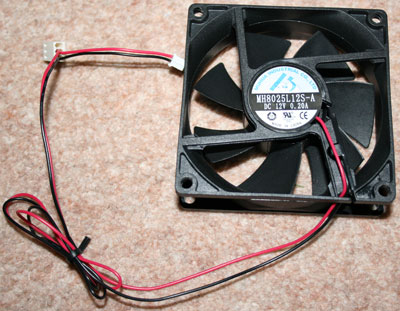 If the buzzing sound from the Muhua fan really starts to bother me, I'll probably swap it out for a Noctua and power it from that spare 4 pin molex I mentioned earlier. It would have been nice/made my life easier if they'd used the standard 3 pin sockets for the fan connectors rather than the tiny 2 pin ones on there now. I should also note that unlike the picture on the Addonics website, my top 80mm exhaust fan did not have a guard on it.
You have to remove a screw on each side of the drive bay blanking plates before you can remove them. I knew I was going to be using all 5 drive bays so that's 10 screws I had to remove - who said A-level maths wouldn't come in handy?!
There are no special rails or rubber vibration dampening fittings in the Addonics Storage Tower V (or IX), it's old school. The bag of screws supplied with the unit provides you with enough of the fine thread variety (a.k.a. 'M3') to put 4 screws in each of the (maximum) 5 optical drives (that's 20 in total - wow, I'm on fire!). I didn't count them but I assume there are 20 of the coarse thread variety (a.k.a. '6-32') too.
There's plenty of slack (possibly too much?) on the supplied internal SATA cables to connect them up to the drives. I only used 2 of the 3 SATA power cables (and with 1 plug to spare!), tucking the final one into the space below the bottom drive.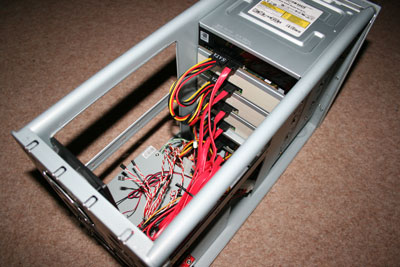 With my 5 drives secured inside the enclosure, SATA / power cables attached to them and the outer casing back on, I went about connecting it up to the mains power and to the PC.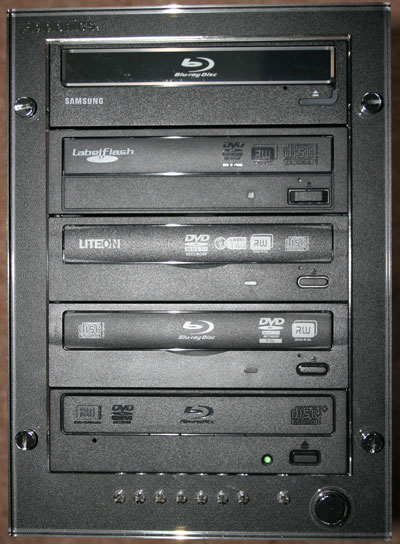 The unit connects to the PC via a single eSATA cable (not supplied). Addonics' website says that 'individual drive' support (which is what I wanted, RAID optical drives would just be silly!) only works on the Silicon Image 3132 (Well, 3132, 3124 and other port multiplier (PM) compatible) cards, so that's what I got. I found my Silicon Image 3132 PCIe card on eBay, no doubt you could do the same.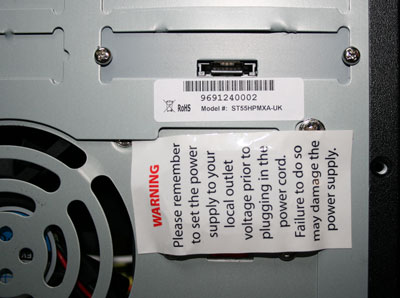 I'd already fitted the Silicon Image 3132 card into my PC, flashed the bios to the latest 'base' version from the Sil3132 product page at the Silicon Image website and installed the latest drivers from there too. For me, it really was just a case of plugging it in, turning it on and hoping for the best.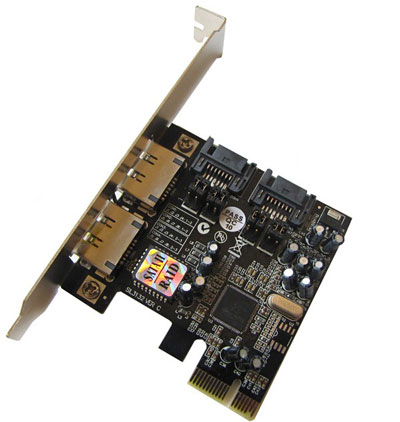 I must admit, I was relieved when everything just 'worked' ! Windows (Vista SP2, 32-bit) handled the simultaneous arrival of 5 optical drives perfectly.
My Addonics ST5 currently houses the drives mentioned below:
TSSTcorp DVDWBD SH-B123L SB02
Optiarc DVD RW AD-7263S 1.01
ATAPI iHAS524 A BL2U
ATAPI iHBS112 2 CL0F
PIONEER BD-RW BDR-205 1.09
I can tell you that all 5 accepted their 'latest firmware' updates without a hitch and I didn't run into any issues using them within ImgBurn either.
I even did some semi-extreme testing whereby I set 3 of the drives (SH-B123L, iHAS524, BDR-205) burning at the same time using 3 instances of ImgBurn, 'Discovery' mode, 'Test Mode' enabled and Verbatim DVD-R 16x @ MAX speed. Sure, the 'Device Buffer' levels fluctuated a fair bit on the Samsung and Pioneer drives (weirdly, the LiteOn was dead solid?!) but they all finished in under 6 minutes and they all reached the magic 16x by the end of the burn - that's a combined total of approximately 66,000 KB/s or 64 MB/s, not bad!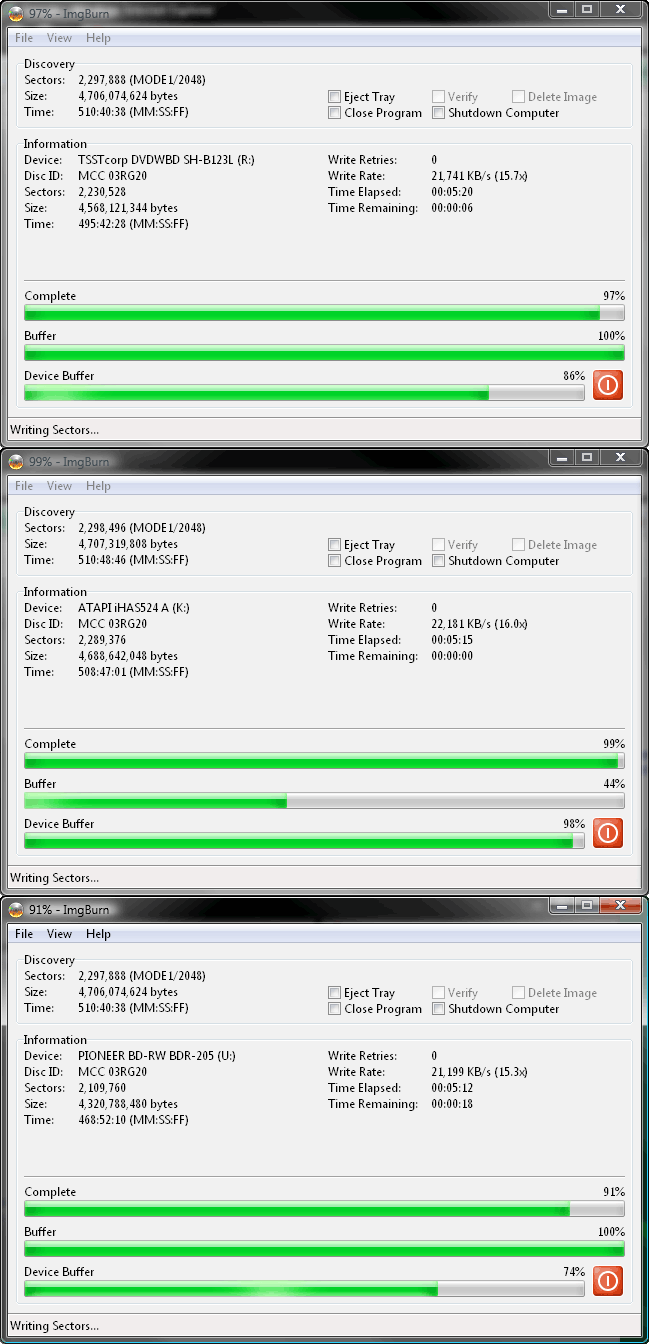 So, if you're like me and have a stack of 'old' drives (that have probably done no more than 10 burns between them!) but nowhere to put them, I can recommend the ST5 / ST9 as a way to turn them into something more useful than a door stop or paper weight.
For those of you without an existing random collection of drives (but thinking about building one up), I'll leave you with my own personal variation of what Uncle Ben once said to Peter Parker...
With a great Storage Tower from Addonics, comes great burning flexibility.
;-)